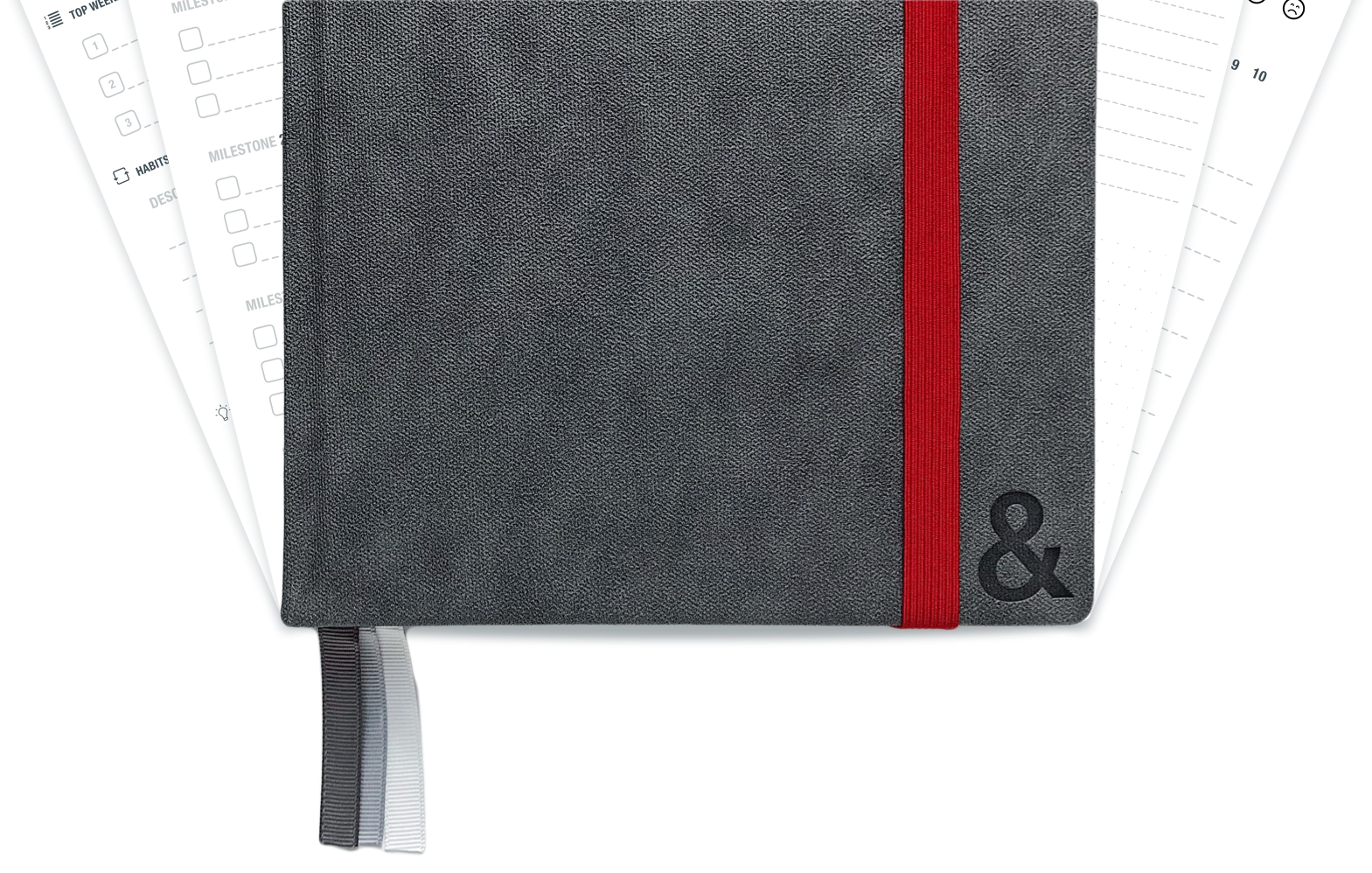 Turn Intention into Execution
Fact: we all have *things* that need to get done. And, most of the time, it's not uncommon for our to-dos to stretch longer than hours in the day available to get them done. That means tasks get delayed, shifted, and fall through the cracks — most commonly, they're the things we have the best intentions and actually want to do, but can't justify prioritizing them over the critical tasks with deadlines and consequences attached.
The Habit System is a planner designed to change the way we think, execute, and achieve. It's designed to guide us towards making a habit of prioritizing who we want to be, what we want to do, and what truly matters in our day-to-day, month-to-month, and year-to-year.
Here's how to get started.
Start Using The Habit System in 5 Steps

Ok, so this one is a big step — but hear us out! This isn't an overnight change that can be executed on, but incremental steps lead to big results, and long term results at that.

There's a reason we named this The Habit System. It's because everything we do is a habit. The way we think, eat, breathe, prioritize, communicate, and act. When we realize that our repeated actions are all habits (not just the ones like drinking 8 glasses of water a day or hanging our keys up when we get home), it becomes easier to identify the actions we've been taking that keep us from becoming who we want to be.
So, think about it.

What have you agreed to lately that took up more time than you anticipated?
What have you added to your to-do list that you know would never make it to your to-done list?
Where have prioritized what "needs" to get done over what you want to get done?
Have you shelved any big initiatives lately for lack of time, even though they'll lead to big rewards (professionally, personally, in your relationships, or your health)?

This is another one that is going to take some getting used to.

Balance doesn't have to mean giving equal priority to all areas of your life at the same time. It actually means NOT trying to cram everything into one day, week, or month.

It means giving yourself breathing room to say, "this area needs my focus right now," and adjust the focus and goals of the other areas accordingly. It means allowing yourself to set goals that are realistic and achievable, and keeping the things that truly matter at the top of your list.

Take some time to decide what your monthly goal is and what steps you'll need to get there. Realistically, you should only list one major goal that you want to work towards so that it stays top of mind priority, and keeps you from the juggling game that tends to occur when we think we need to get everything done all at once.

This goal can be in any area of your life you want it to be! What matters it that you write it knowing that you're going to give it the focus and priority it needs, and that you know what realistic success looks like by the end of the month.


The system works if you work it. Make it a habit (see what we did there?) of filling in your planner daily, and setting yourself up for success at the beginning of each month and week so that in can guide you in achieving what you really want to achieve.

Fill out the reflection assessments and take note of what you nailed, what you missed, and what you've learned from both. Give yourself the praise you deserve from small wins, and don't let yourself get derailed when things don't go as planned. Getting something wrong is a great way to learn how to get it right. Appreciate the journey and give yourself credit for putting in the effort.

There's strength in numbers!
Goals get much easier to achieve when you have a community to cheer you on. That's why we've started #TheHabitChallenge, for accountability and support within the Code&Quill community!
At the start of the month (or whenever you get your planner), post a picture of you, your planner, what your goal looks like, your favorite sandwich – you get it – on Instagram, Facebook, or Twitter with #TheHabitChallenge and @codeandquill to join other members working towards their goals. Give us updates, ask for help, and celebrate the wins as you work towards the person you truly want to be.
We can't wait to see what you achieve and to cheer you on along the way.
You've already taken your first step towards turning your intentions into execution, and that deserves a standing ovation!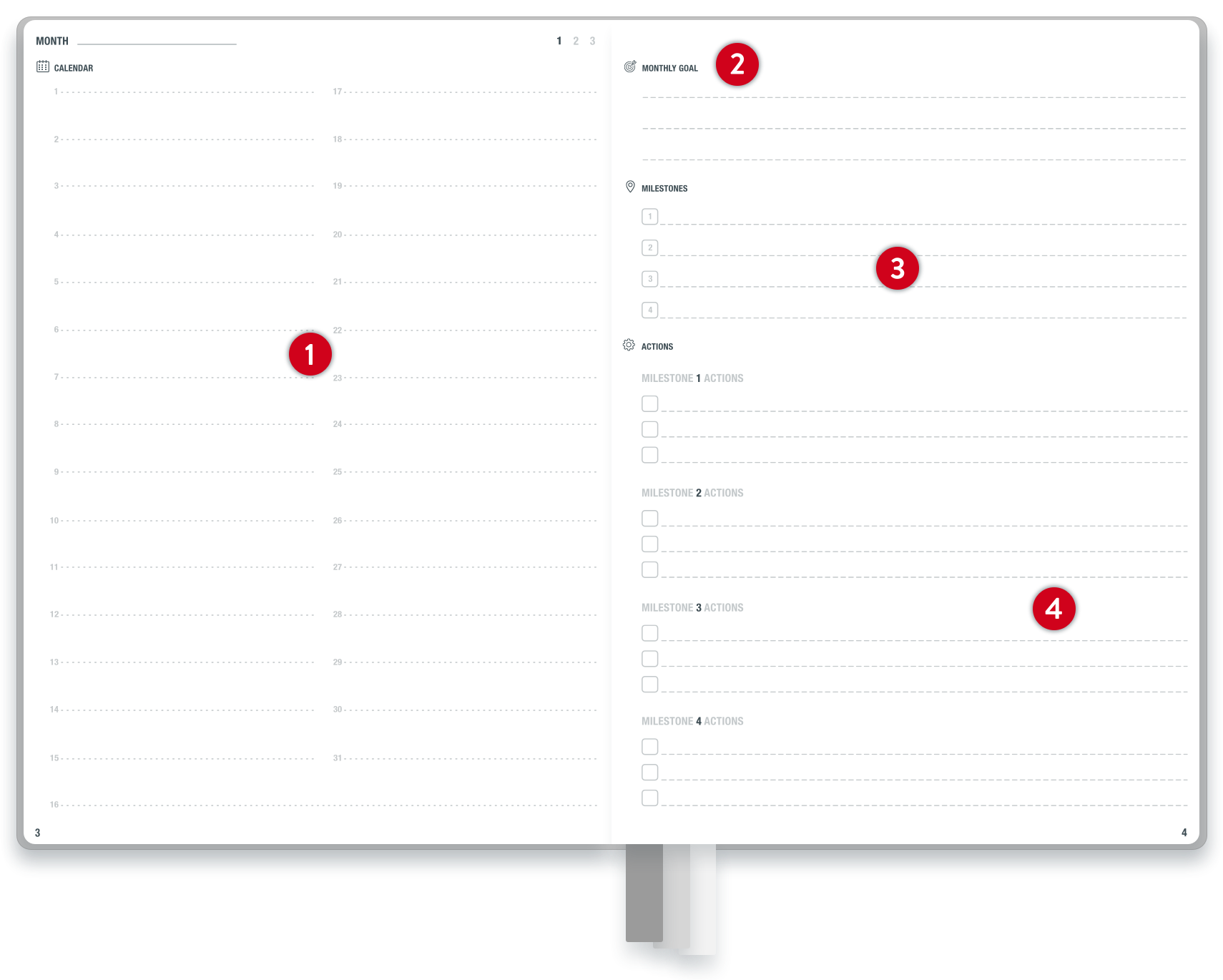 Monthly Overview
Keep an eye on your commitments, meetings, and important events so you never miss a beat.

Keep Your Eye On The Prize
Big or small, your Monthly Goal gets the ball rolling on your actions for the month!

Incremental Milestones Lead to Improvement
A goal without a plan is just wishful thinking. Break down your Monthly Goal into realistic milestones that will keep your progress on track.

Put Your Actions Into Perspective
These are the final pieces of your Monthly Goal puzzle. Each milestone is built on smaller actions, and will inform your day-to-day and week-to-week progress. Future You is going to love Present You for the plan!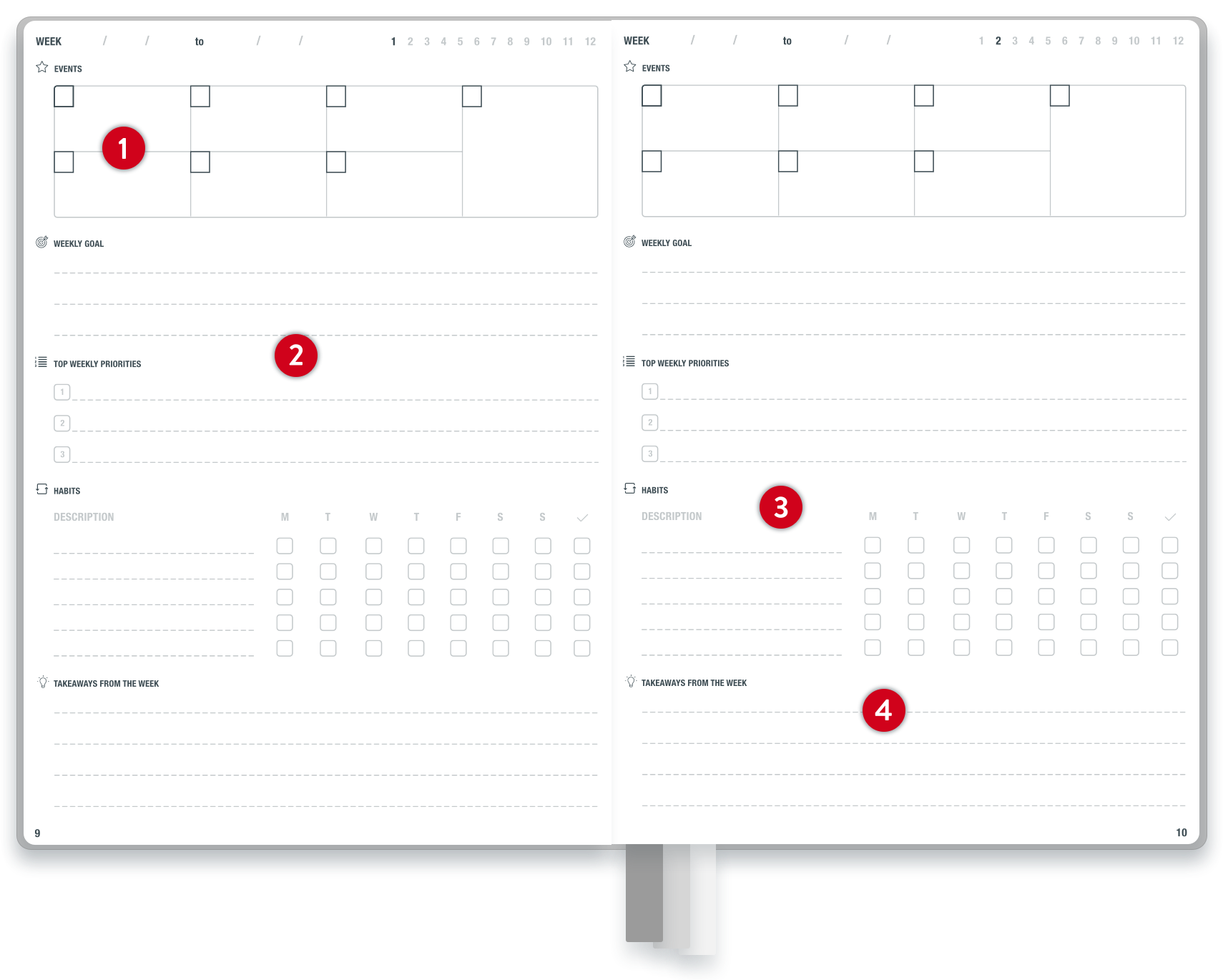 What's On Your Calendar?
Add your meetings, events, "me" time, calls, and deadlines to start your week informed and prepared.

Focus On What Matters
What milestone are you working towards this week? What do you need to do to feel your best? Keep your Weekly Goal(s) and Priorities specific and attainable. Intentional actions will keep your focus in check. Remember, this is a sprint, not a marathon.

Repeated Actions Lead To Consistent Results
Quickly keep track of your weekly progress for the actions you want to solidify as good, balanced habits.

Reflect On Your Week to Inform Your Next
What went right? What went wrong? Why? Take a moment to share your takeaways that will make planning your next week productive and improved.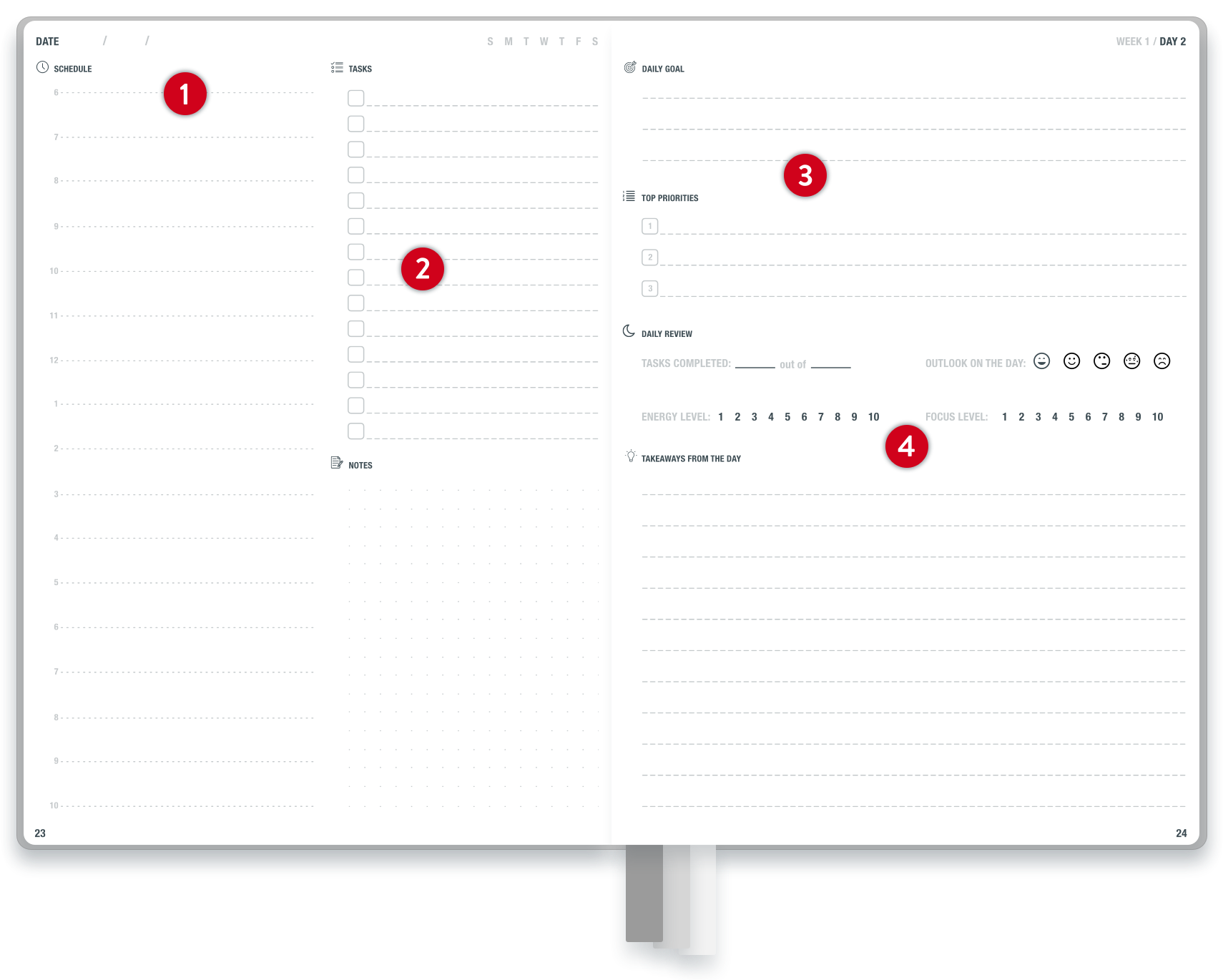 Get A Full View Of Your Day
How do you want to spend the hours in your day? Commit your hours to the things that matter by scheduling them out each day.

Drill Into The Details
Which tasks (work, health, personal, relationship, etc.) do you want and need to accomplish today? Be specific and prioritize what matters. Add notes below to keep yourself mindful!

Small Wins Become Repeated Wins
Create your Daily Goal and Top Priorities that you want to be intentional about today. What do you need to accomplish to feel your best at the end of the day?

Reflect And Assess
This is where you learn from your actions and adapt for balance. Review your day to see what you accomplished (and why), how your mindset fared (and how it could improve), take stock of your energy and focus so you can head into tomorrow with a plan!
Need A Habit System Planner?